The Grimreaper's Scythe Guide By [Vision] SoulSplit
| | | |
| --- | --- | --- |
| " | you need to return the Scythe Sharpener, its seems the Skeletons stole it | " |
Starting off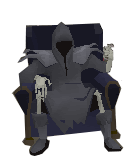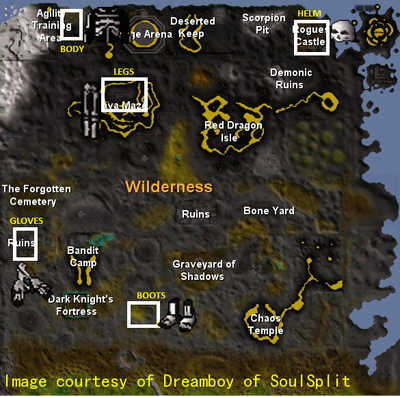 You can start this quest at Bounty Hunter,
Starting point: Teleport to Bounty hunter, and walk WEST, then a bit south. Do not enter the wilderness whatsoever (This has been mistaken allot).
Talk to the Grim Reaper, and accept the quest. Now, DO NOT GO AND START KILLING SKELETONS. Go straight east of the PK teleport "West Dragons" and go to the Castle door and try to enter. You will get a message telling you that maybe Skeletons can help.

Let's find all these Skeletons!!
-[PLEASE DO NOT FORGET TO BRING FOOD AND RESTORES, AS THERE ARE DANGEROUS PKERS THAT WILL TRY TO MAKE YOU LOSE YOUR SkeletonLY]-
1. Skeletonly robe top is located in the Wilderness Lava Maze, near King black dragon lair, aprox south-east.
2. Skeletonly top is located near the pirate ship in 56 wilderness, aprox west of mage bank, and north-west of King back dragon lair.
3. Skeletonly boots are located in 13 wilderness, near the green hill where the Kalphite queen rests.

4. Skeletonly Head is located at the wilderness castle just east of the Chaos elemental.

5. Skeletonly gloves are located in the wilderness runes, a little bit north-east of "West dragons" Pk teleport.
Now you have all the pieces, equipt ALL skeleton armour and go back to the Castle, and "Infiltrate" it. Search the south-west crate once inside, to find Grim Reapers scythe sharpener.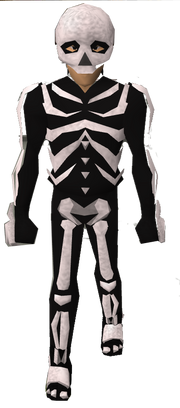 now return it to him for your reward! 5M+Jack lantern helm.
Now, for the Spear? You've found all Skeletons, but no spear?!? Looked everywhere? The spear is located just north-west of the "Boneyard" or Skeleton training area near the hill giants in wild 16. Go to wilderness level 22 exactly by going north, then head straight west until you hit this guy.

Happy Halloween from Vision! also Thanks to DreamBoy -Vision-